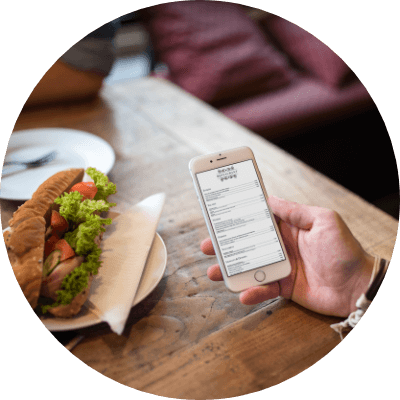 Thanks to the menu creation "One Shot", benefit from your own digital menu including:
One main menu only
Your establishment logo integration
Insertion of the name of your establishment (under the logo and in the URL)
Menu non editable
Customized design (colours and matching)
Allergens display
Ingredients list display of your dishes
Forma web-app for your menu to give a simple access to your customers through a restaurant mobile app
QR Code supplied
Analyses of visitor traffic (statistics)
Far better than an order management application for restaurant – The "One Shot" offer
Modernize the process, simplify the work of your waiters as well as focus on hygiene and sanitary rules, that's what propose you carte-de-restaurant.fr with its facilitating restaurant ordering system. Provision different services to your customers and offer them innovation.
How works the application facilitating restaurant ordering system management?
If you wish to create a digital card with all your menus on it, but your budget is limited, select the "One Shot" offer of Carte de Restaurant! This offer allows you to enter each dish you propose, just below the name and logo of your establishment. Thus, your customers will recognize you more easily.
Like a restaurant ordering system, our service gets an intuitive use thanks to the QR code and allows you to present your dishes or your specialities without print paper menus. Because the sanitary crisis is still present, your customers feel more comfortable not to manipulate documents touched by others.
Carte de Restaurant: first step to simplify your restaurant ordering system
This application favouriting the restaurant ordering system, combine to the "One Shot" offer, will give you the possibility to register the essential on your menu such as the ingredients composing your dishes or the potentials allergens. In its web-app version, this application is accessible to every smartphone owner (80% of smartphone owners know how to use a web-app and scan a QR code).
You can choose the offer to test our services and then evolve through more complete offers that for example permit you to modify the menu and its design as often as necessary, to add photos and videos.
Create your account in few minutes online and access then to your personal space 100% secured! We stay at your disposal to help and advise you in the different steps.