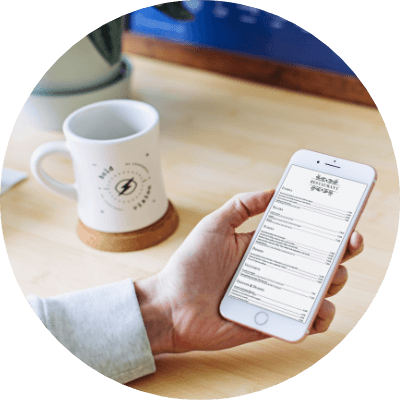 Thanks to the menu creation "Basic" offer, benefit from your own digital menu including:
Your establishment logo integration
Insertion of the name of your establishment (under the logo and in the URL)
Menu adaptable freely on your own using a very simple and intuitive administration interface
Customized design (colours and matching)
Allergens display
Ingredients list display of your dishes
Forma web-app for your menu to give a simple access to your customers through a restaurant mobile app or other
QR Code supplied
Analyses of visitor traffic (statistics)
What kind of restaurant app prioritize?
The software Carte de Restaurant for digital menu creation is easy to use: no need to download a specific app for restaurant menu: your restaurant menu become digital. It opens with a simple QR Code. In other words, our online service makes your establishment enter in the digital era.
What are the different steps of the creation of your menu?
Once you create a card, the digital form of your menu is easily red through a restaurant mobile app. A smooth playback encourage concentration and especially the whole reading of your menu! Thanks to this innovating system, customers have access to all your specialities instantly and can choose without wait.
The creation of cards and menus is customized made and can be modified at any time. The "Basic" offer of Carte de Restaurant ensures you an unlimited access to your menu: adapt it day or night using the easy access and intuitive interface. At the same time, you can choose the design, the colours and the matching of each part and highlighted specific dishes.
What are the items included on the digital restaurant menu app?
A successful creation of restaurant menu means that all the specificities of your establishment are took into account and all customization needed realized. Your logo appears clearly above your establishment name or commercial sign and a lot of details are mentioned such as the ingredients used in each dish and the potential allergens.
Thanks to our menu creation software, the customer enjoys the charm and the friendliness of and order to a waiter and still benefit of his advices and recommendations, using his restaurant mobile app. You don't need to sanitize your menus between each table, that make you save time. With the sanitary crisis, there are plenty of precautions to take which are time-consuming.
Choose our menu creation software and profit of our specials offers! You can subscribe monthly or annually! The subscription can be monthly or annual.
To complete the "Basic" Offer,
these services could be useful