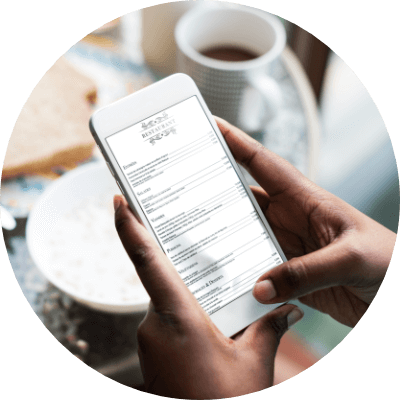 Thanks to the «Pro» offer, compose your digital menu including:
Your establishment logo integration
Insertion of the name of your establishment (under the logo and in the URL)
Menu adaptable freely on your own using a very simple and intuitive administration interface
Customized design (colours and matching)
Allergens display
Ingredients list display of your dishes
Forma web-app for your menu to give a simple access to your customers through a restaurant mobile app
A multilingual menu
Enrichment of your menu with photos of your dishes
Provision of a printable display integrating your QR code
Analyses of visitor traffic (statistics)
A very complete offer to create a restaurant menu online
Allowing your customers to access to a menu online is revolutionary: the sanitary crisis impose to keep safe, that's why a lot of customers prefer innovating establishments, that are very respectful of protocols and social distance. With carte-de-restaurant.fr, you protect your customers base as well as you give them the opportunity to be advised on the different dishes by an experimented waiter.
How create a digital restaurant menu?
Following the creation of your menu, a QR code is generated. This code provides access to your menus and to all the informations in your page. More complete than the "Basic" offer, the "Pro" offer let you design your menu 100% customized with the establishment logo, name and URL, adapt the design and modify your menu and prices at will but also add photos of you dishes and propose your menus in several languages.
Create a restaurant menu online has never been so easy!
What's the interest of a restaurant menu online for the customers?
Besides the sanitary aspect, digital menu visualization is fun and very pleasant.
Plus, access to the menu with a QR code is very simple. Just scan the QR code using the camera of the smartphone to make the menu delivered by Carte de Restaurant appeared. Each restaurant menu online gets a unique QR code very easy to set up.
The QR code for a restaurant menu is above all another way to communicate with your customers base showing that you can evolve with new technology and adapt to the temporary or permanent restrictions.
You want to create your restaurant menu online? The Carte de Restaurant "Pro" offer helps you in every sanitary procedure and give you access to effective tools!
To complete the "Pro" Offer,
these services could be useful